Brief repotage about the Spur 1 Modellbahntreff - Sinsheim 2008 June 28-29
edited by Alberto Pedrini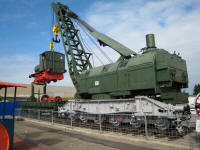 I have been at the meeting on 28 saturday, the first day.
Two big tents were built nearby the railroad pavillons as entrance, inside we can feel immediately the smell of the solid fuel for the real steam locos. Aster e Wyko
many shops sold new and used locos, coaches, freights and accessories
Here some buildings producers
two works of art
and layout accessories, lasercut heads for modular layouts, beautiful turnouts and double slip switches and motorized turntable.
Some of the firms showed also big layouts were ran their models
two big Nohabs
These are the showcases of one of the bigger german shops specialized in the 1 scale where we can admire crowds of locos modified and weathered.
look at the details of this BR96
after that other shops and accessories for all the needs
Here the 1:32 models between the 1:1 locos
There were also some private layouts, here one, modular, with a background done by computer and the Jowi software
A Challenger waiting her buyer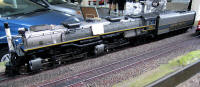 And at last the Spur 1 Team Württemberg layout, where a lot of wonderful trains were running.
more info about this team
http://www.spur1-team-wuerttemberg.de/
Please give your comments about this page clicking on the button under here: