Nell'inverno 2004-2005 ho finalmente trovato tempo e spazio per costruire un "diorama ferroviario". Inizialmente l'idea era di farlo statico per un uso prettamente fotografico, ma poi la passione per il movimento ha prevalso e quindi ho reso il tutto funzionante. Non contento ho voluto inserire un passaggio a livello funzionante e il "car system" della Faller.
Il binario è il Märklin K e su questa tratta potranno viaggiare sia treni AC che DC (non contemporaneamente) grazie all'alimentazione separata delle due rotaie.

Well, at last I have found the time to begin the building of my first "Railroad layout module". The first idea was to make it for a Photographic use, but in second way I decided that it should have worked.
The track are Märklin K, and it is possible to play both the system AC and DC (not contemporary)
Come vedete la base è costituita da listelli di abete piallati di circa 2,5x4,5 cm.
As you can see the structure is maden with 2,5x4,5 cm deal wood
Il binario appoggia su uno strato di sughero da 5 mm. ed è stato sopraelevato per mezzo di un filo di ferro da 1 mm.
The roadbed is 5 mm. cork posed on 10 mm. plywood, note as the 1 mm. steel wire incline the track .
Il passaggio a livello è realizzato prendendo i pezzi da questo vecchio Rivarossi
mentre il portale della galleria è Noch
The level crossing is taken from this old "Rivarossi" - the Tunnel is "Noch"
La linea aerea è la nuova Märklin (Viessmann), nella confezione iniziale è compresa una dima per il corretto montaggio
Ecco il collaudo della catenaria, il funzionamento è perfetto, le vecchie macchine analogiche viaggeranno così
Per la realizzazione del paesaggio, ho usato più tecniche per sperimentare i vari sistemi:
Plistirolo + stucco, legno + rete + carta + stucco, legno e stucco.
The rock are in plaster on wood, wood+ iron net, polistyrene + iron net
Metodo classico per la massicciata fissata con una miscela di vinavil, acqua e due gocce di detersivo per piatti, in questo caso ho aggiunto del mordente in polvere color noce per scurire i sassi.
Per i moduli del nostro plastico digitale va usato il ballast grigio scuro Noch 09376
Classic working method for the ballast, water, vinyl glue and two drops of washing-up liquid plus color if necessary
Come si presenta il binario prima dell'invecchiamento con l'aerografo
before weathering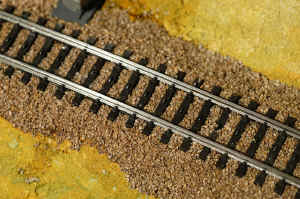 le rocce sono dipinte con colori all'acqua così come la base dove pianteremo l'erba
Tre immagini per provare le dimensioni più adatte dei futuri alberi
Test for the trees
Ecco il passaggio a livello dipinto, al momento sono in attesa del secondo magnete per finire la parte nord
Here the level crossing, now I await the second magnet to finish the work
Prove di passaggio per gli automezzi
Truck driving test
Installazione del filo guida Faller, la fresa è indispensabile per un lavoro preciso e veloce.
This is the Faller suggested method: use the Faller milling machine
Ecco un particolare importante che garantisce il contatto centrale e la circolazione degli automezzi sul passaggio a livello, si tratta di un listello di abete opportunamente fresato e forato per accogliere la terza rotaia presa a un binario C (i marklinisti sanno cosa dico) e il filo guida .
Here is my solution for the track crossing of the "car system". I take the central rail from a C track and put it in a deal fillet, after that i insert the wire of the "car system" aligned with the road.
Il tutto si fissa con 4 viti alla base in sughero dopo avere fresato i dentini centrali del binario K
Fix it with 4 screws after to have filed the central rail of the K track
Si ricava poi la sede per il magnete che fermerà i mezzi a sbarre abbassate
The stop magnet
The work finished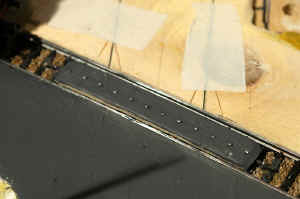 10 marzo 2005
Per l'invecchiamento del binario ho usato l'aerografo con colori acrilici, dopo avere steso un leggero strato di vaselina da elettrauto sulla parte superiore delle rotaie ho iniziato con mani leggere di color ruggine, ho passato poi la parte centrale con colore nero ed infine ancora una mano di ruggine.
For weathering tracks I sprayed acrylic colours using an airbrush. To avoid the painting of the upper side of the rails I protected them with a light coat of vaseline. I started with subsequent light coats of rust color, then on the the central part I used diluted black and again a last coat of rust .
L'erba e i cespugli sono fatti con prodotti commerciali, gli alberi sono esperimenti di autocostruzione con rametti veri e flocage, i sassi sotto alle rocce sono residui della lavorazione delle stesse.
Grass and bushes are commercial products, trees are experiments made using sticks and turf, stones are residual of the carving work
Infine ancora qualche scatto di prova, questa volta con rotabili italiani Märklin
Some other photos taken with italian trains by Marklin.
Il diorama è stato portato all'aperto per essere illuminato dalla luce del sole
A good set of shots taken outside.
Restano da completare gli alberi, la strada, il meccanismo del passaggio a livello, l'illuminazione, le recinzioni, i personaggi e gli accessori.
Trees, road, level crossing engine, lighting, accessories, fences and people still need to be completed.
7/5/2005
Ho terminato la motorizzazione del passaggio a livello, i componenti usati sono un circuito di controllo, due servomotori e due meccanismi di trasmissione del moto, tutto di produzione "Conrad"
I have finished the motorization of the level crossing, all the components are from www.conrad.de
Le sbarre sono di un vecchio modello rivarossi, ho forato la plastica nella parte posteriore per inserire il filo d'acciaio proveniente dal meccanismo di movimento .
29 maggio 2005, il diorama è terminato e sono stato invitato ad esporlo alla mostra di Bereguardo (PV)
The work has now finished, these are the images taken during a model show in Bereguardo , Italy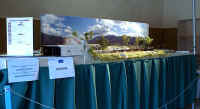 ho trovato una soluzione per realizzare le piante che mi ha soddisfatto
at last I have found a good solution for my trees
il passaggio a livello a ricevuto il suo nuovo semaforo lampeggiante
the level crossing has now its flashing lights
e lungo la strada ho installato i cartelli
and on the road there are the signs
il fondale è realizzato in proprio partendo da tre immagini unite al computer
the backdrop is done by three photos joined by photoshop
ancora immagini degli alberi
Ecco i Video da 2,5 a 8 Mb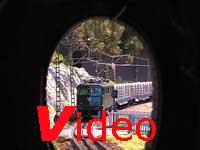 size 2,6 Mb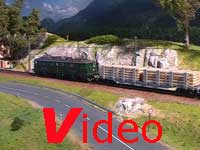 size 7,7 Mb
size 4,1 Mb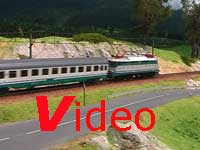 size 4,0 Mb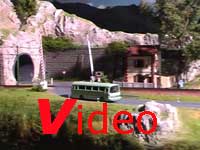 size 3,8 Mb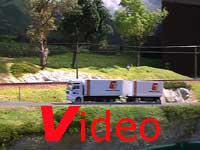 size 2,7 Mb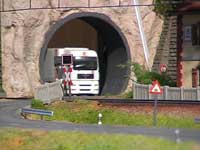 size 2,4 Mb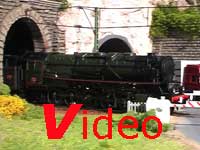 size 8,5 Mb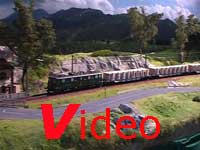 size 4,7 Mb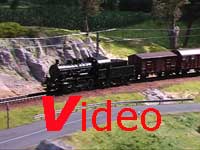 size 4,2 Mb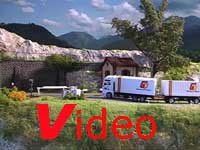 size 2,7 Mb
Domande o commenti: