26 Novembre 2006
Oggi ho iniziato la costruzione del secondo modulo per il plastico digitale, si tratta di una costruzione " a quattro mani " con l'amico Erli Pievani http://www.gfobergamo.it/Erli-Pievani.htm che realizzerà alcune parti del paesaggio. Aggiornerò questa pagina seguendo le stato di avanzamento lavori fino al termine.
Today I've started the building of my second module for our Marklinfan Modular Layout. My Friend Erli Pievani http://www.gfobergamo.it/Erli-Pievani.htm will help me to built the scenery. I'll update this page following the steps of work.
I pannelli di legno sono spessi 18 mm. e sono stati assemblati solo con viti 4x40. Sconsiglio di incollare i legni perchè superfluo ai fini della stabilità, e problematico per eventuali modifiche in corso d'opera. Indispensabili i morsetti per tenere a 90° i pannelli durante la preforatura da 3 mm. e l'avvitamento.
The panels are 18 mm. thick and are joint only by 4x40 mm screws. I suggest don't use glue due to allow any modificatons. Two 90° clamps are essential to do perfect connections by drilling 3 mm. holes and tighten the screws
Una volta terminato l'assemblaggio ho applicato le solite flange di giunzione con viti 4x20. Nell'ultima immagine i tre pannelli uniti per la prima verifica di giunzione.
After the assembling I've fixed the special alu joint by 4x20 mm. screws.
here the three modules for the first test.
29 Novembre 2006
Oggi ho assemblato il telaio della parte posteriore dell'elicoidale e ho posato il piano di compensato da 10 mm. che sosterrà i binari.
Dopo avere verificato la fattibilità del circuito ho tracciato l'ingombro dei binari sul piano di compensato, ho poi ritagliato una striscia da 160 mm. di larghezza.
Today I've built the back frame for the helicoidal. After the checking of the railway shape I cut the 10 mm. thick plywood in a 16 cm. wide strip, enough to support the two tracks.
Il minimodulo di riferimento è utile per sveltire e contemporaneamente verificare l'allineamento dei binari per una corretta giunzione dei moduli. Il piano in legno è sostenuto sulla testata da un travetto 4x5 avvitato alla giusta quota.
My "minicheckmodule" is very helpful to place correctly the tracks in the join point.
La lunghezza del tratto di curva interno da sotto a sopra il ponte è di 380 cm. il dislivello previsto è di 10 cm. per consentire il passaggio della linea aerea sotto il ponte a travi metalliche che verrà costruito. La pendenza massima della rampa sarà quindi del 2,63%.
The minimum lenght of the bend (internal) from ground to the top of the bridge is about 380 cm. and the height is 10 cm.
So the gradient of the slope will be 2,63%.
1 Dicembre 2006
Terminata la posa provvisoria dell'elicoidale e fare un breve test con la Nohab.
Today we have completed the first laying of the helical, here the Nohab testing the tracks.
In queste tre immagini si vede la lieve pendenza della salita e il piano di compensato che verrà tagliato per far posto al ponte in metallo.
Here you can see the gradient of the slope, when the iron bridge will be ready we'll cut the plywood to place it in the right point.
In seguito abbiamo iniziato la posa del binario flessibile sulla salita che riporta a quota zero la linea. Il sughero usato è quello in fogli da edilizia 50x100, spessore 5 mm. Il metodo seguito è questo:
Suddividere i dieci cm. di dislivello sulla lunghezza a disposizione (in questo caso 460 cm.) e stabilire le altezze dei supporti del piano nei punti dove saranno fissati. Tagliare e fissare i supporti, posare il piano e fissarlo con poche viti.
Agganciare il binario di transazione C>K e posare il flessibile come voluto.
Tagliare le strisce di sughero spesso 5 mm. in strisce adatte a sostenere i due binari e posarle sotto al binario.
Ripartire dalla transizione e fissare con chiodini il binario flessibile.
Tagliare la parte eccedente di massicciata.
After that we have begun the laying of the flexy trak on the 460 cm. slope that bring the level of the railroad to zero.
We divided the lenght by the 10 cm. of the difference in level, cut and fix the piers, and layed the panels.
Then we linked the transition track C>K and the flexy.
After have layed the cork ballast we fixed the flexy by little nails and cut the excess of the cork.
4 Dicembre 2006
Dopo avere segnato l'ingombro della massicciata ho smontano i binari e tagliato il piano di compensato come necessario.
Anche in questo tratto si misura la lunghezza della tratta e si divide per il dislivello da superare. Quindi 460 cm. diviso 10 risulta un abbassamento di un centimetro ogni 46, molto semplice. La pendenza sarà del 2,17%.
Tagliati e fissati i piloni ho riposato in modo definitivo il piano binari, nella foto di destra si nota il piano che ospiterà la stazione con il deposito merci.
After have marked the size of the cork I have dismantled the tracks and cut the 10 mm. thick plywood in the usual 16 cm. wide strip, enough to support the two tracks, plus the station's surface.
A questo punto ho incollato le strisce di sughero con Bostik superchiaro seguendo le tracce di ingombro. Appena asciugata la colla ho rifilato i bordi con un cutter e con la raspa ho uniformato e arrotondato il profilo.
Than I glued and trimmed the cork
Nelle prossime immagini si vede il piano della linea secondaria non elettrificata a binario unico che viaggerà da quota + 6 a +8 cm.
Here you can see the top where there will be the steam/diesel one track railroad
6 Dicembre 2006
Terminata la posa dei sostegni del piano binari e posizionata la base della linea a binario unico superiore.
Ora è il momento di decidere l'esatto andamento del tracciato.
Finished the positioning of the piliers and the top. Now it's time to plan the exact route of the upper tracks
Sono in posizione i portali della galleria, mentre il ponte è messo in modo provvisorio per valutare l'equilibrio generale del paesaggio e decidere i volumi dei rilievi.
Fixed the tunnel's portals and positioned one temporary bridge only to check the balance of the landscape
Una possibile futura "inquadratura" e i moduli dall'alto
One future "shot" and a view of the modules from the top
12 Dicembre 2006
Completata la posa dei binari e definito il tracciato superiore, oggi i moduli sono stati smontati.
I lavori proseguiranno su un modulo alla volta per completare l'impianto elettrico e il paesaggio
L'ultima vista d'insieme
Today we have finished the positioning of the low tracks, and traced the shape of the upper circuit.
After that we have dismantlet the modules. The works will continue on the single module to complete the wiring and the scenery.
Here the last comprehensive view.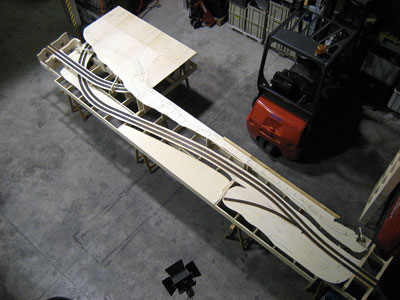 15 Febbraio 2007
Proseguono i lavori sul primo modulo a casa e a cura di Erli, completata la posa dei due marciapiedi di stazione. Tutto è stato autocostruito usando cartoncino e fogli commerciali per la pavimentazione e i muri.
Naturalmente mancano ancora le finiture di verniciatura, opacizzazione e invecchiamento, in particolare sul muro di stazione per il quale è stato usato cartoncino Vollmer che rivela il retino di stampa se fotografato da molto vicino.
Ecco le immagini, la stazione servirà sia la linea principale a doppio binario che la linea a binario unico non elettrificata.
Erli continue to work on the station module (the first on the right of four). He has completed the wall and platform wich serve the two railroad, the main and the secondary not electrifyed. The stairs are made by cardboard, cut and glued offsetting the step. The wall is a Vollmer N scale Wallplate 7368, the platform is the Bush Cobblestone area 7088. Base and border are cardboard from 0,2 to 2 mm. thickness.
The nekst step will be to color and make opaque the wall and weather all, of course.
I due marciapiedi - platforms l'area deposito - storage area le rocce - rocks
Stazione principale - main Station la scala - stair marciapiede basso - low platform
Scala marciapiede alto - upper platform uscita rampa
30 Marzo 2007
I lavori sono stati sospesi a causa della costruzione di altri moduli per il plastico digitale e per quello vintage. I moduli sono stati smontati e accantonati, tolti i binari e la base della rampa.
I lavori sono poi ripresi nel maggio 2010: elicoidale 2